"We are bound together as Women"
Our fondest experiences on our Brave Rave journey is the connection and collaboration of kindred, intelligent business women who inspire by example, support and encourage our journey. We love-love-love-love these very amazing brands & the ambitious, community building women who created them. We expect even more greatness from these women as they continue to grow. Take a moment to click the links to learn more about these amazing businesses & what they do to service, heal & inspire our World!! Support Our Mothers, Wives, Daughters & Sisters in their business.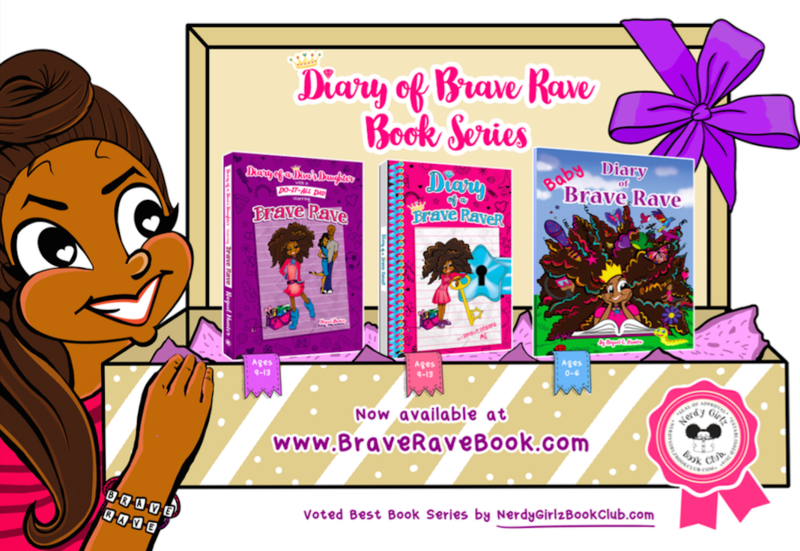 NerdyGirlz Book Club is an amazing and refreshing book club for youth ages 3 -14 created by 9 year old Kennedy Thompson with the guidance of mother Akiba Thompson. Young Kennedy simply wanted to share her love and passion for literature with other young people in her community to encourage and support sisterhood, socialization and literacy. NerdyGirlz Book Club is dedicated to making reading funner than you have ever known. This book club has over 200 members and over 100 active members. NerdyGirlz Book Club has given "Diary of Brave Rave" book series their very own Seal of Approval, as one of their favorite reads. Support by sponsoring a member of NerdyGirlz or NerdyBoyz by going to www.NerdyGirlzBookClub.com or www.NerdyBoyzBookClub.com




6th & Madison Shoe Company helps to sponsor the Brave Girls movement by contributing to book donations to young girls unable to purchase a book or journal of their own. The Saint Louis based shoe company has delivered amazingly designed shoes for young girls since 2015. Their shoes have been the RAVE of fashionable girls and women from coast to coast. In support, we have featured 6th&Madison's 'brooklyn brogues' as the feature shoe on the cover of our "Brave RaveR" journal and throughout of our "Baby" book. We acknowledge and honor the contributions in fashion and business that 6th&Madison Shoe Co. designer has made and we look forward to supporting their bright future. Take a Bow---You ROCK!!!
For more information about the 6th&Madison brand click above link.